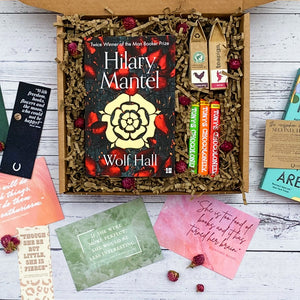 Build a Book Box
Wolf Hall by Hilary Mantel
Regular price
$20.00
$0.00
Unit price
per
Tax included.
Shipping
calculated at checkout.
ABOUT THE BOOK:

It begins with a Blacksmith's boy, his face bloodied, his body in the Putney mud at the feet of his ruthless father. His choice: to submit or to survive.

From these brutal beginnings emerges a man who would define his age: Thomas Cromwell. It is the 1520's, Henry VIII rules England with his queen, Katherine of Aragon but he has no heir. His chief advisor Cardinal Wolsey, an astute and adept politician, is charged with the task of freeing Henry from the encumbrance of his marriage but Henry is subject to commands of the pope and Katherine is a devout and loyal catholic.

Into this seething hotbed of tension and scheming steps Cromwell, a self-made man with a formidable legal mind, shrewd and ambitious. Working first as Wolsey's clerk and later his successor, he emerges as a powerful player in the court's games and one with a hunger to win. As Cromwell's star rises under a capricious King with a boundless capacity for cruelty, he becomes a key player in a power-play where to stumble is to fall and every move offers either gracious favour or certain ruin.
Our favourite quote: 'Lock Cromwell in a deep dungeon in the morning,' says Thomas More, 'and when you come back that night he'll be sitting on a plush cushion eating larks' tongues, and all the gaolers will owe him money.'
Send book gifts • Buy sustainable • Spread joy • Feel good
---
Share this Product
---