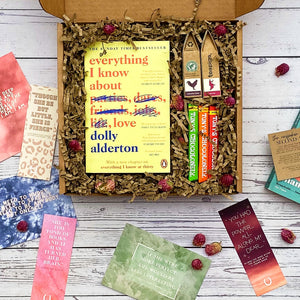 GiftSmith
Everything I Know About Love by Dolly Alderton
Regular price
$19.00
$0.00
Unit price
per
Tax included.
Shipping
calculated at checkout.
A spot-on, wildly funny and sometimes heart-breaking book about growing up, growing older and navigating all kinds of love along the way.

When it comes to the trials and triumphs of becoming a grown up, journalist and former Sunday Times dating columnist Dolly Alderton has not only seen it all and tried it all but written about it too.
In her intimate memoir, she vividly recounts falling in love, wrestling with self-sabotage, finding a job, throwing a socially disastrous Rod-Stewart themed house party, getting drunk, getting dumped, realising that Ivan from the corner shop is the only man you've ever been able to rely on, and finding that that your mates are always there at the end of every messy night out.
It's a book about bad dates, good friends and - above all else - about recognising that you and you alone are enough.
Everything I Know About Love is a book that is alive with wit and insight, heart and humour. Dolly Alderton's powerful debut weaves together personal stories, satirical observations, a series of lists, recipes, and other vignettes that will strike a chord of recognition with women of every age – all whilst making you laugh until you fall over. It's a book full of heart that brings to life the struggles of early adulthood in all its grubby, hopeful and wonderful uncertainty.
Our favourite quote: 'Because I am enough. My heart is enough. The stories and the sentences twisting around my mind are enough. I am fizzing and frothing and buzzing and exploding. I'm bubbling over and burning up. My early-morning walks and my late-night baths are enough. My loud laugh at the pub is enough. My piercing whistle, my singing in the shower, my double-jointed toes are enough. I am a just-pulled pint with a good, frothy head on it. I am my own universe; a galaxy; a solar system. I am the warm-up act, the main event, and the backing singers. And if this is it, if this is all there is- just me and the trees and the sky and the seas- I know now that that's enough.'
Send book gifts • Buy sustainable • Spread joy • Feel good
---
Share this Product
---